Calvary Church – Englewood was founded on October 15th, 1952, as a church plant of 24 members from Denver Temple Baptist Church. God richly blessed Calvary as they planted First Southern – Littleton within two years. Within another two years they broke ground on Calvary's new building at our current Acoma Street location. Calvary continued to plant churches in the Denver Metro area, including Cherry Hills Baptist Church (Arapahoe Road Baptist Church) in 1960.

Calvary has had quite the journey over the years as it strived to glorify God in every aspect of ministry. As our neighborhood around us changed socio-economically through the years, we have done our best to stay relevant in sharing the Gospel to our community. Change is not always as easy, nor as quick, as we would like. As a result, Calvary was near extinction in 2009 with thirty people worshiping on a Sunday morning. We had faith that God was not done with us yet!

Today, Calvary Church is thriving at its Englewood location. Calvary is passionate about church planting and church revitalization; planting a new Calvary church in Littleton in 2013 has re-energized our efforts to this end, and we are planting and revitalizing churches in Denver, Aurora, Lakewood, La Junta, and by God's grace alone, beyond.

What was the magic program for the drastic turn around, you may ask? Loving authentically, preaching the Bible verse by verse, sharing the Gospel, and equipping the saints for the work of ministry is the foundation — and God is doing the rest. We have one song we sing at Calvary and that is the Gospel! God willing and by His power and direction alone, we will continue on this path until Jesus is made non-ignorable in Denver and to the ends of the earth.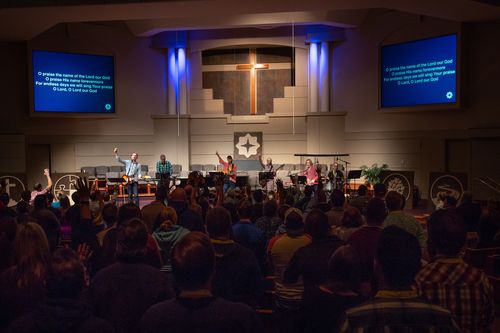 The Calvary Family of Churches is an organization that actively supports the infrastructure, planting, and replanting of our member churches. The Calvary Family of Churches is made up of an interdependent family of self-sustaining, self-governing, self-replicating churches that share: a common family name (Calvary Church), a common family doctrine, common core commitments, common family traits, and common family affiliations.

The CFC is also a resource for churches who are looking for consulting or assistance as they carry out their ministry. Acoma Press is the publishing arm of the Calvary Family of Churches. It is a Denver based and church led publishing group, providing resources to help planting and replanting churches across America.