Do What You Love - Invite Others
Summer Connect is all about doing what you love, with others! What do you plan to do this summer? Hike, fly fish, splash pad at the park? Invite others to join you! If you have a Summer Connect idea and want to lead a group, click
here
!
Men's Workshop: Biblical Manhood
Wed, Jun 29 • 6:30pm • Bowland Home
Brandon Morrison is going to lead a discussion on the topic of biblical manhood. What is it, how has it been distorted, and why is it important we recapture a biblical vision of what it means to be a man?
Men's Study Group: The Reason For God by Tim Keller
Tues, begins Jun 14 • Bi-weekly • 7am • Calvary Church
Reading through The Reason for God and meeting bi-weekly for discussion with other men. The Reason for God addresses the frequent doubts that skeptics, and even ardent believers, have about religion.
Wed, Jun 29 • 5:30pm • South Suburban Golf Course
We will hit the practice facility and enjoy each other's company! All skill levels welcome!
Mon, begins Jun 6 • 2-4pm • Cassidy Home
Join us this summer as we dig into the book of James!
Mon, begins Jun 6 • 2-4pm • Wing Home
Join us this summer as we dig into the book of James!
Thur, begins Jun 2 • 9:30-11:30a • Gentle & Lowly Book Study • childcare available with RSVP

Thur, begins Jun 2 • 6:30-8:30pm • Acts (Inductive)
Join us this summer as we we dig deep into God's Word!
Mon, Jun 27 • 6:30pm • Coors Field
College aged people of Calvary, this one's for you! Come enjoy a free Rockies game and get to know some other folks you might not already know! Sign up by Jun 26 so that we know how many tickets to buy. Sign up a friend too!
Unveiling Jesus to Mormons in Utah
Sun, Jun 19 • 12:30-2pm • Calvary Church
God has been up to much through the Gaskins Family since they moved to Utah three years ago! Join us for lunch to hear updates about their ministry to Mormons in Utah. New believers are being baptized and the Lord is growing his church! We also have a mission team that will be working with them in Utah later this summer.
Weds, Jun 29 • 6:30-8:30pm • Corrigan Home
Summer is here and we would love the opportunity to get to know you and connect you with other women! Join us for our annual Women's BBQ, a casual evening of great pulled pork, laughter and community. Please bring a side dish or dessert to share. What are you waiting for!? Grab a friend to bring along and sign up today!
June 25 • 12-3pm • Northridge Park, Highlands Ranch
Come hang with friends, interns, & enjoy a nice day hammocking in the park!
Sat, Jun 25 • 8:30am • Meet at KeyBank (10470 Park Meadows Dr Lone Tree 80124)
Good exercise, great company, beautiful waterfall, and delicious burgers afterwards… What more do you need?
Ministry Among Muslims with Macs
Sun, Jun 26 • 12:30-2pm • Calvary Church
The Macs are in CO for the summer! Join us for lunch to hear updates about their ministry among Muslims in South Asia. The Lord has been working and you will be encouraged to hear about new believers, new churches, new teammates, and new initiatives!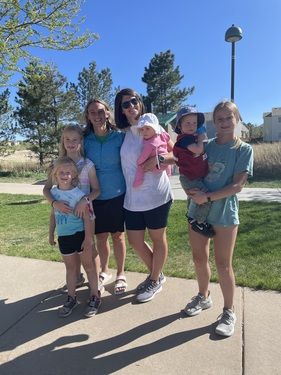 Wed, Jul 13 • 10am • Soda Lake Beach
If you love the outdoors and splashing in the water, then you will love Big Soda Lake Beach!
Thur, Jul 14 • 10:30am • Rollin D Barnard Equestrian Park
Come to the Horse Park! Kids and grown-ups will love wading through Big Dry Creek, racing stick boats, and climbing trees at Barnard Equestrian Park.
Lecrae Concert & Elitch Gardens
Sat, Jul 23
Fun and thrills on all the rides at Elitch Gardens and an evening concert with LeCrae!
Sat, Jul 9 • 9am • Mt. Bierstadt
We will be climbing a mountain for epic views! It is a chance to get fresh air, be with others who may have never done a 14er before, and eat excellent snacks :) And my mountain goat of a dog, Kodah, will join us!!
Men's Workshop:
The God of the Gospel
Weds, Jul 27 • 6:30-8pm • Calvary Church
Discussion group for men to hang out and discuss a few key characteristics of God that we see in the gospel and it's implications for our faith and life.
July 16 • 2-4pm • Littleton Museum
Littleton Museum has a little bit of everything to stretch your creative photographic juices. Bring your fancy camera or your iPhone and capture pictures of wildlife and old barns with tips from Dave Philip and Doug Naes!
Aug 6 (7pm) or Aug 7 (3pm) • DeClue Home (Near Littleton High School)
Lord willing, Jessica is moving to France in Spring 2023! She would love to share what God is doing to reach Muslim Refugees with the Gospel. Surprisingly, Islam is the largest practiced religion in France, and her team works in a city where there's only one Bible-believing church for every 60,000 people. Come learn more and enjoy some authentic French pastries and baked goods!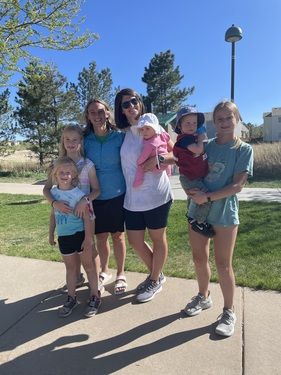 Sun, Aug 21 • 4-6pm • Civic Green Park
We will bring pop-up soccer goals and have some family friendly games going while the younger kiddos romp around and play in the adjacent splashpad!
The Sixth Annual Southern Baptist Committee Meeting on Trout Acquisition
TBD
We will be visiting a local Colorado river in order to catch trout! Fly-fishing encouraged, spin-casting tolerated. If you aren't experienced, we will help you learn!